There are many shows about smart people that end up
having ridiculously stupid humor (looking at you, Big Bang Theory!). But there
are also many shows that seem stupid (at surface level) but actually have very
high-brow humor. But then there's the cream of the crop! There's the smart
shows with smart humor, but also a lot of stupid jokes. This article is about
them.
Here are 10 smart shows with
stupid humor!
Letterkenny
Letterkenny is a show about
Canadian hicks (think "rednecks" but in Canada). The show is very fast-paced.
There's a joke practically every 10 seconds. There's jokes that build over
several episodes, and then the punchline gets delivered in the season finale.
There's jokes that build over several seasons. But make no mistakes, there is
also an incredible number of silly jokes about drinking, sex, farts, and awful
puns.  
BoJack Horseman
Just like Letterkenny,
BoJack Horseman is a show that combines high-brow humor with very stupid gags.
Most of the characters in the show are animals, and the first two seasons of
the show really go down the hole of making stupid puns about animals. Paparazzi
birds constantly get distracted by bread. Dogs love peanut butter. Horses love
sugar. Very business-oriented cats have scratchers in their office. This show
is brilliant.
The Good Place Here's a show that takes a
very simple concept (people make it into hell, but it's presented to them as
heaven), but the show runners really take the concept and run with it. There
are season-length metaphors about the difference between good and bad. There
are deep discussions about philosophy. But there is also an incredible amount
of stupid jokes (like the fact that they can't swear, so all the swear words
come out as "ash" and "bull shirt" and "fork").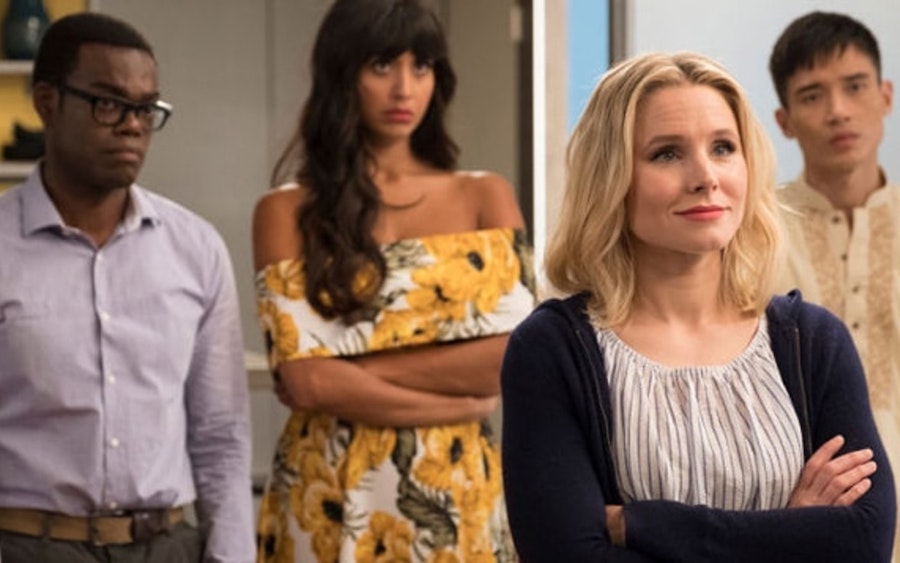 It's Always Sunny in Philadelphia It's Always Sunny in
Philadelphia is the pinnacle of "Smart shows about stupid people", and honestly
that's all I have to say about this show. All the jokes are incredibly dumb,
but the show is greater than the sum of its part, and the writers actually
tackle some serious issues with their episode scripts.