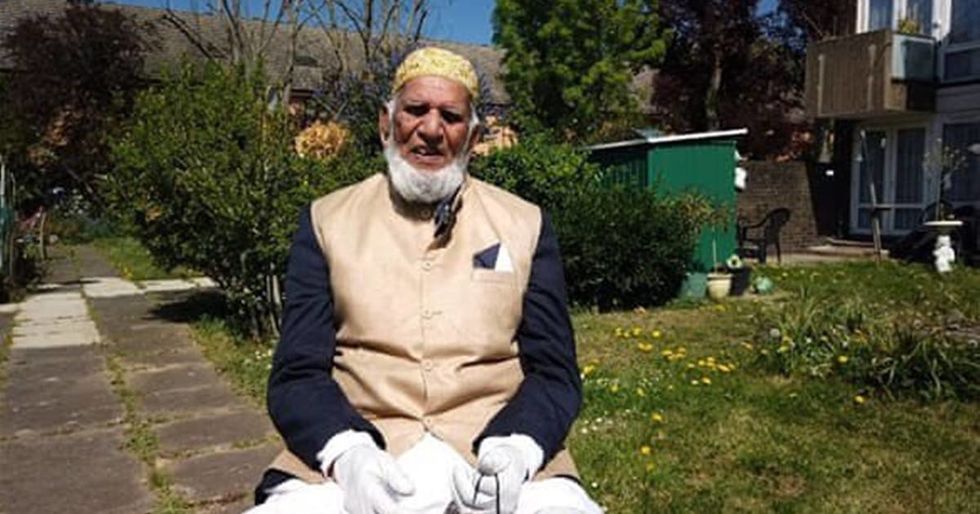 Dabirul Islam Choudhury, a 100-year-old Muslim man in the UK, has raised over $207,000 for those affected by COVID-19 by walking laps in his 260-foot-long community garden while fasting for Ramadan.

The funds were raised on his Just Giving page and will be donated to the Ramadan Family Commitment (RFC) Covid-19 crisis initiative, run by British-Bangladeshi television broadcaster Channel S.
The program raises money for vulnerable individuals during the 30-day period. Ramadan is observed by Muslims worldwide as a month of fasting, prayer, reflection and community.
---
Muslims observe the period by fasting every day from dawn to dusk. The fast is said to create a raised level of closeness to God.
Choudhury set himself the challenge of walking 100 laps during the Muslim holy month which ends on May 23. He was inspired by Colonel Sir Tom Moore, the 100-year-old war veteran who raised almost $40 million for the UK's National Health Service (NHS) by taking laps of his backyard.
For is efforts, Moore will be knighted by Queen Elizabeth II.
Choudhury has used the occasion to send a message of unity during the COVID-19 pandemic.

"Thank you for your generous donations," Choudhury said. "We have proved that we can stand hand to hand and shoulder to shoulder during the most unprecedented time of our lives."
He also congratulated Moore for his knighthood.
"I would like to congratulate Captain Sir Thomas Moore for being knighted for his exemplary efforts to raise funds for our NHS," Choudhury continued.
Choudbry says he is "honoured to serve, and will continue fiercely to fight for COVID-19 victims."
Choudhury's efforts won him praise from Labour leader Sir Keir Starmer. "On behalf of @UKLabour, I would like to thank Dabirul Islam Choudhury for his incredible fundraising effort," the Labour leader tweeted.
"I know he has now raised well over £150,000 for those affected by coronavirus in the UK and Bangladesh."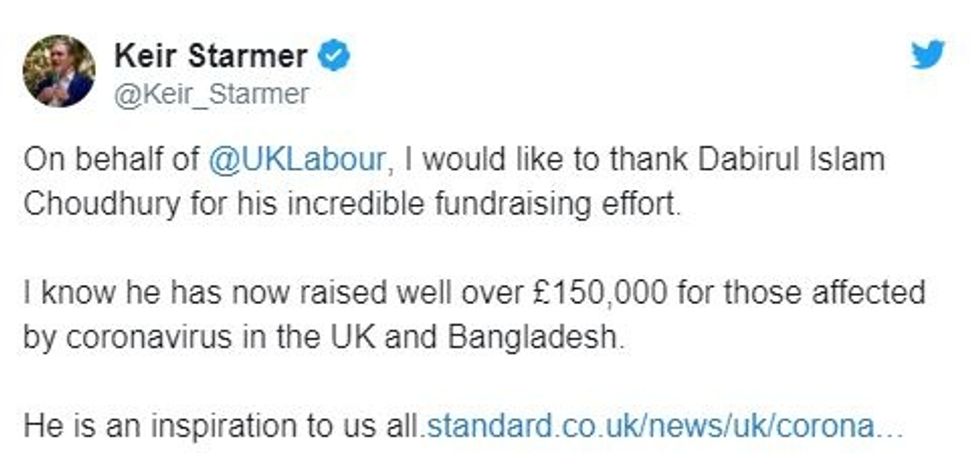 via Keir Starmer / Twitter
For a 100-year-old man to do laps in an 260-foot-long garden is a feat in an of itself. But to do so while fasting is truly incredible. According to his son, his journey has only made him stronger. "When we started, we started at a small pace but he's been increasing his number of laps he's doing," his son, Atique Choudhury, told the BBC.
"The problem we have is that we have to try and stop him because he wants to carry on," he added.
Choudhury was born on January 1, 1920 in British Assam (current-day Bangladesh). In 1957, he moved to England to study English literature. Because of his education he would grow to become a community leader and has worked tirelessly to help the people of Bangladesh.