It's like a giant hug.
Ever feel like you have the weight of the whole world on top of you, and the anxiety is keeping you from sleeping? A lot of us feel that way, either because we suffer from anxiety or insomnia, or, sometimes, both. 
Weirdly enough, there's another source of weight that may be of help: a weighted blanket.
What is a weighted blanket?
Weighted blankets are, basically, blankets that have weight to them. They can be as light as 10 pounds or as heavy as 30 pounds, but they are designed to create pressure that calms. That means tese blankets help people to relax and fall asleep, no drugs required. 
The best weighted blankets are much like a hug, or swaddling a newborn. But for anyone, from children to adults, who just need a bit of extra TLC to get to sleep at night, they may be lifesaving.
And with these weighted blankets for anxiety and insomnia, prepare to feel a sense of calmness you may not have felt in years.
[embedded content]
1. Baloo Living Weighted Blanket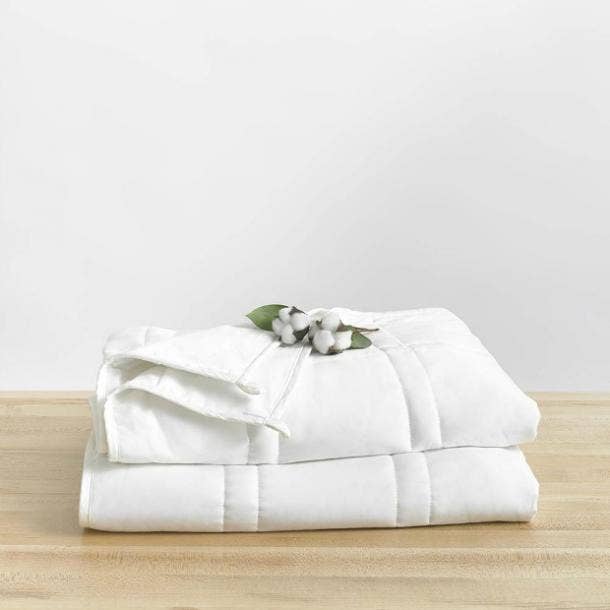 This blanket is made to feel like it's hugging you to sleep. Made with premium, breathable cotton, the vegan blanket molds to your body to mimic the feeling of a warm bear hug, allowing you to sleep deeply while calming anxiety and stress. The perfect cuddle buddy for when your partner can't be there.
(Check prices and reviews on Amazon)
2. TRU Blanket Weighted Blanket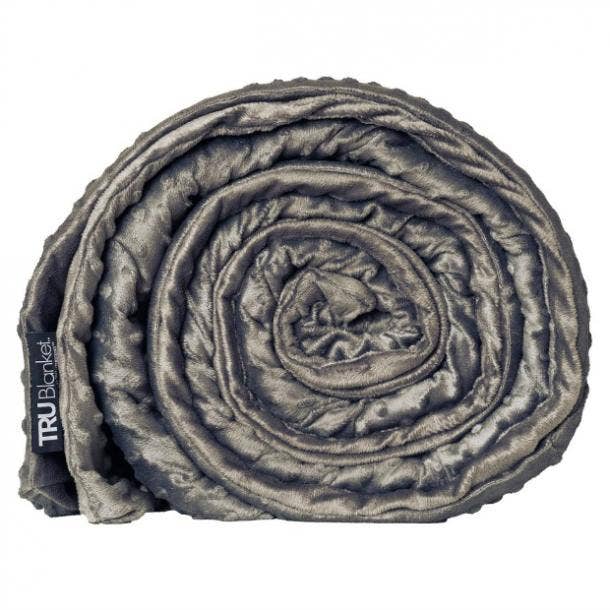 A premium weighted blanket designed to promote relaxation and a better night's sleep, it's infused with real glass beads (not plastic, which can be toxic!). TRUBlanket is called the "Happiness Blanket" as it can support bringing happiness back into our lives. Used as a throw or sleeping blanket, TRUBlanket feels like you are getting a full-body hug, ideal for helping your body unwind.
(Check prices and reviews on Amazon)
3. Nest Luxury Weighted Blanket
This blanket consists of a fleecy top layer made of plush, soft, mink-like fur, and has a smooth bottom layer made from 300 thread-count 100 percent cotton. Ranging from 15-25 pounds, and available in Twin, Queen and King, Nest Bedding's weighted blanket is washable and has a clean, lead-free fill made with small, glass beads sewn between two layers of poly-fill batting. The beads create deep pressure and muscle stimulation for a relaxing effect.
(Nest Bedding, $159)
4. Dual Therapy Weighted Blanket by Brooklyn Bedding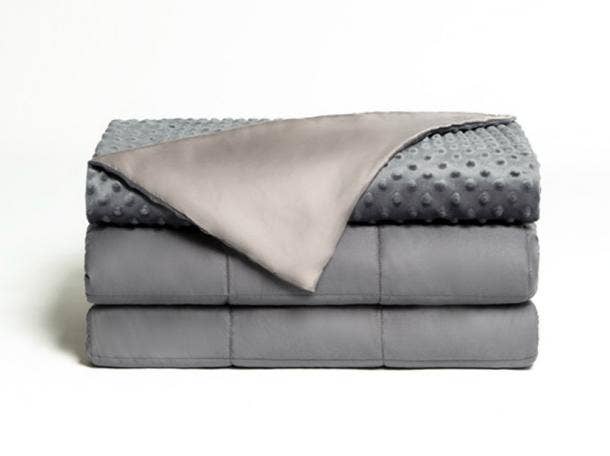 The Dual Therapy Weighted Blanket by Brooklyn Bedding is designed to provide the deep touch pressure support that can result in a calmer, more soothing night's sleep. Its dual therapy features come from a flippable and removable duvet cover: one side blankets you in a traditional, ultra cozy warmth and security; the other side provides the tranquility of weight, coupled with an advanced cooling fabric.
(Brooklyn Bedding, $139)
5. SensorPEDIC SG Weighted Blanket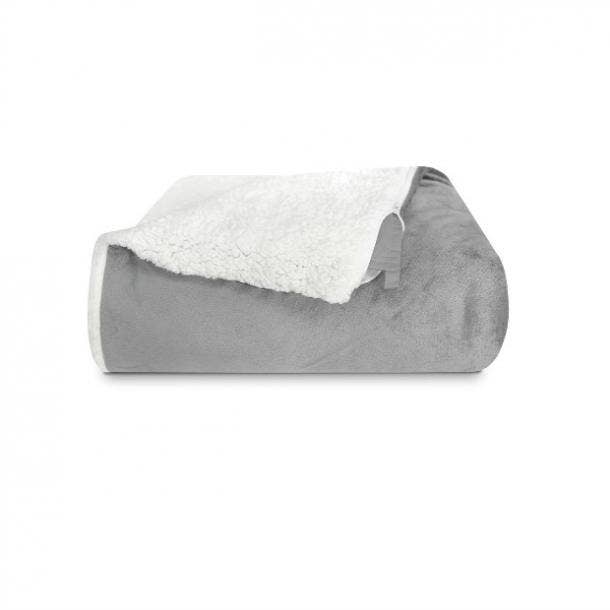 Promote soothing relaxation as glass beads give the sense of steady, soft pressure against the body with the 15 pound Serenity Weighted Blanket from SensorPEDIC. The soft cover features hypoallergenic fabric on one side and plush Sherpa on the opposite side.
(Macy's, $143.99)
6. Purple + Gravity Blanket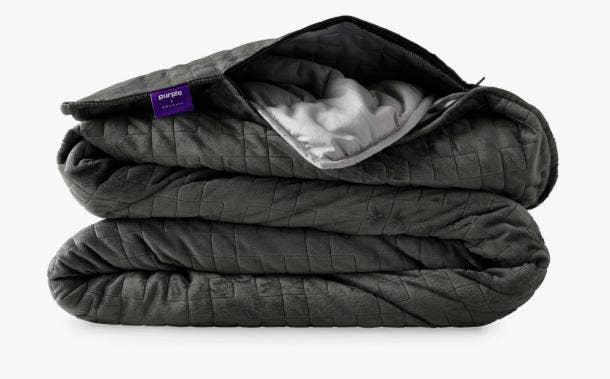 Sleep and feel better with the Purple + Gravity Weighted Blanket with dual-sided technology. Choose the cozy or the cool side and snuggle up in 35 pounds of comfort any time of the year. To help you sleep even greater and more relaxing overall, bundle up with the Purple + Gravity Weighted Sleep Mask. With 1/2-pound of evenly distributed weighted beads to give you the perfect pressure, it makes relaxing incredibly easy.
(Purple, $299)
7. Sleep Number Relaxation Weighted Blanket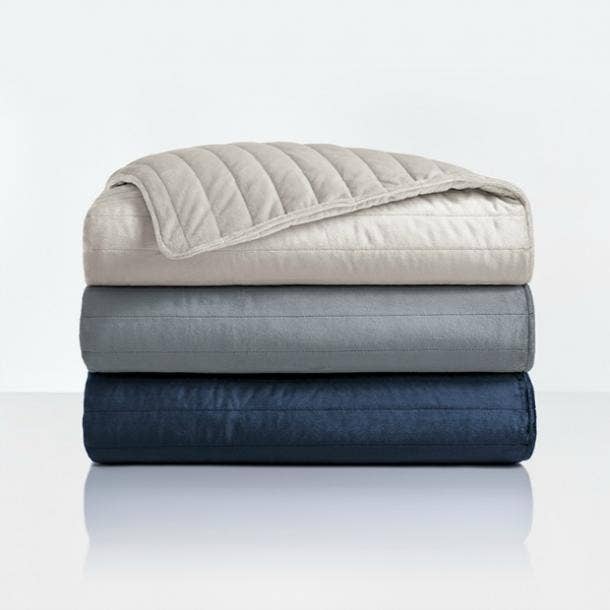 This calming weighted blanket complements your sleep experience and offers the relaxing effects of deep pressure stimulation for reduced stress and anxiety. Ideal for sleeping or lounging, the no-shift diamond box construction holds fill in place for even weight distribution. Inner ties keep the blanket from shifting. And soft, removable microfiber cover adds cozy comfort.
(Sleep Number, $199.99)
8. Layla Weighted Blanket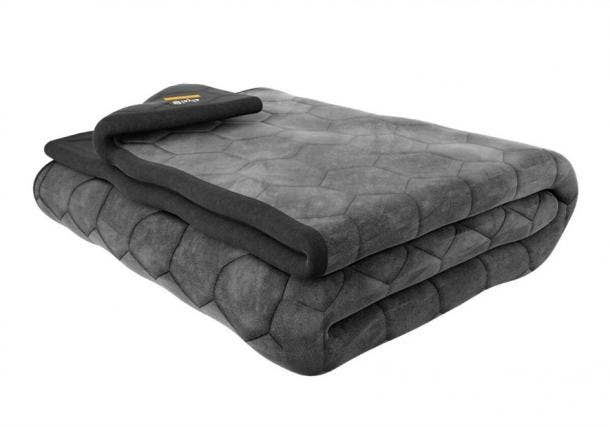 Top side of this weighted blanket is made of plush, soft, mink-like fur. The other side is 300 thread-count 100 percent cotton that provides a clean, soft, and easily washable surface. Deep Touch Pressure is especially effective for people with anxiety and ADHD, and when given the choice, most people who try a weighted blanket say they feel better with it than without it.
(Layla Sleep, $129.00)
9. Holden & Hay Weighted Blanket & Duvet Cover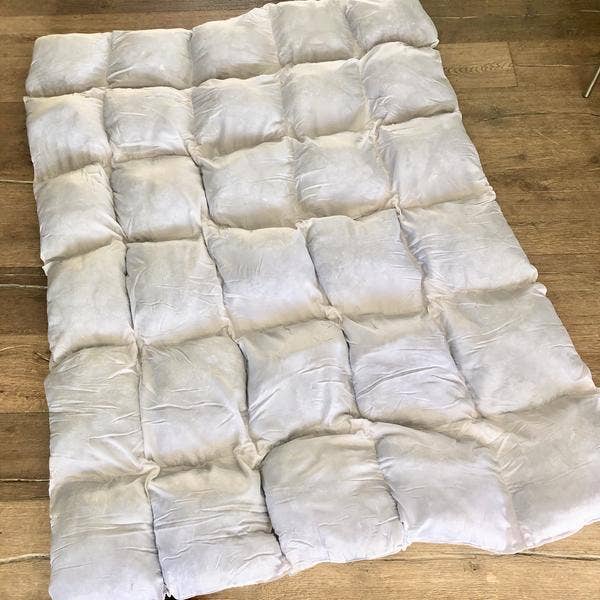 Holden & Hay created a sustainable and stylish solution made with a premium, printed Italian Merino wool blend. They use recycled shredded denim that's quiet, soft, and doesn't shift with each toss and turn. The blankets are hand-stuffed and their weight with the duvet vary between 16 to 18 pounds.
(Holden & Hay, $199)
10. Luxome Cooling Weighted Blanket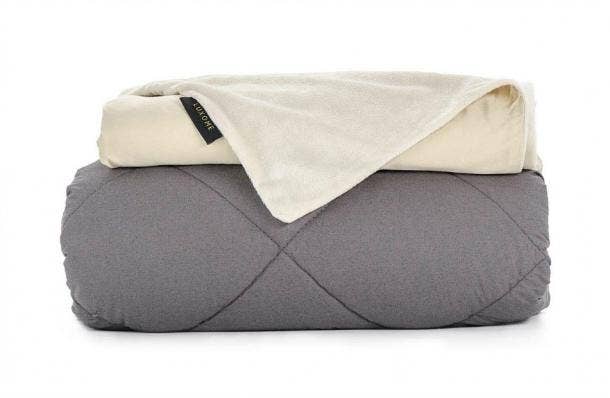 Not all bamboo is the same quality, and the Luxome Cooling Weighted Blanket only uses top-grade 300TC Lyocell (organic) bamboo. This means it's much softer and safer than cheaper Viscose bamboo blankets that use harsh Sodium Hydroxide in their production.
(Check prices and reviews on Amazon)
11. Comphy Weighted Blanket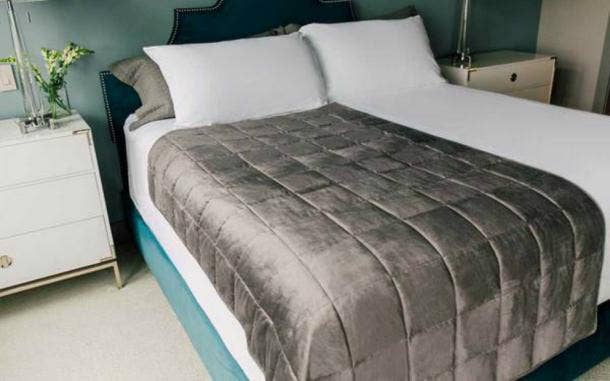 Comphy's heavier-than-normal blanket "hugs" a sleeper, resulting in deeper, longer, more restful sleep. Fine-grade glass beads remain uniformly distributed and safely enclosed in each 6" square, yet the Micro Mink blanket fabric is soft. This weighted blanket comes with a removable cover made from soft, high-performance fabric. The double-layered twill fits snugly around the blanket and has a zipper enclosure on the side for ease of use.
(Comphy, $130)
12. Tranquility Weighted Throw Blanket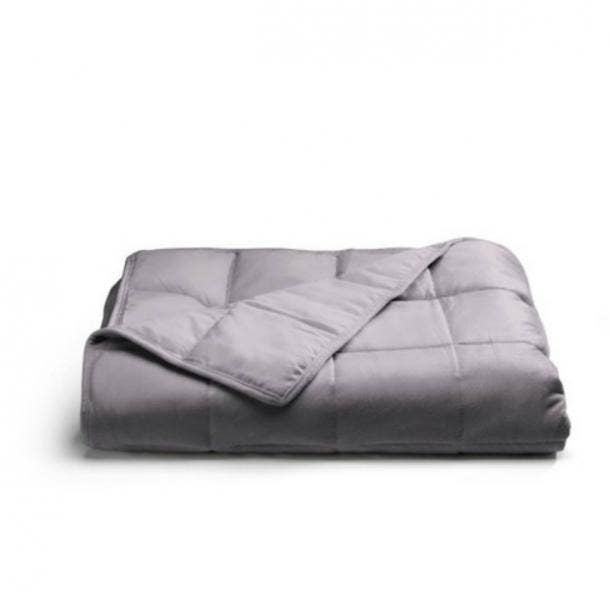 The Tranquility Weighted Blanket helps you fall asleep faster, remain asleep through the night, and wake rested.I t applies gentle, even, pressure across your body and helps calm and comfort. It features a plush top fabric and a cool microfiber underside to keep you comfortable. 
(Target, $49)
13. The Gravity Blanket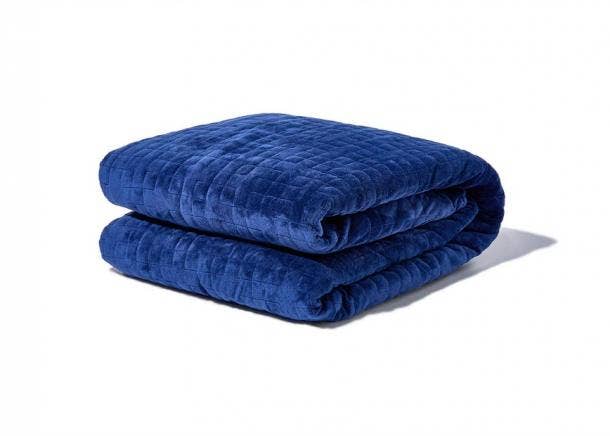 The exterior duvet cover is made of super soft micro-fleece, and interior weighted blanket is made of cotton and fine-grade glass beads, held in place inside the duvet cover by both ties and elastic-button straps. Gridded stitching on the inner side ensures the glass beads remain uniformly distributed during use.
(Check prices and reviews on Amazon)
14. BlanQuil Quilted Weighted Blanket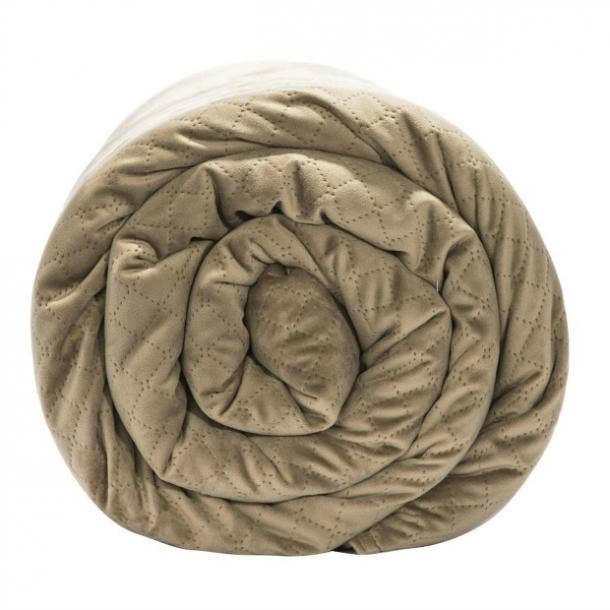 The weighted inner blanket comes in 15 and 20 pound options, and uses 77 independent baffles that keep the eco-friendly glass beads distributed evenly across your body. It's well tailored and can be used without the cover in warmer months.
(Check prices and reviews on Amazon)
15. YnM Weighted Blanket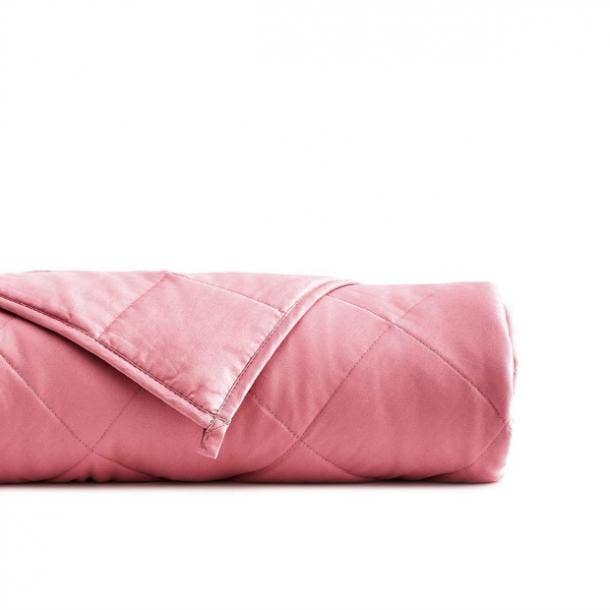 YnM is a premium-grade weighted blanket that helps relax your body by simulating the feeling of being held or hugged, making you fall asleep faster and sleep better throughout the night. It features three-dimensional lock bead sewing method, 7-layer system, Oeko-Tex certified fabric, and premium glass beads. The customizable duvets include premium cotton, cooling bamboo and soft minky material. 
(Check prices and reviews on Amazon)
16. ZonLi Weighted Blanket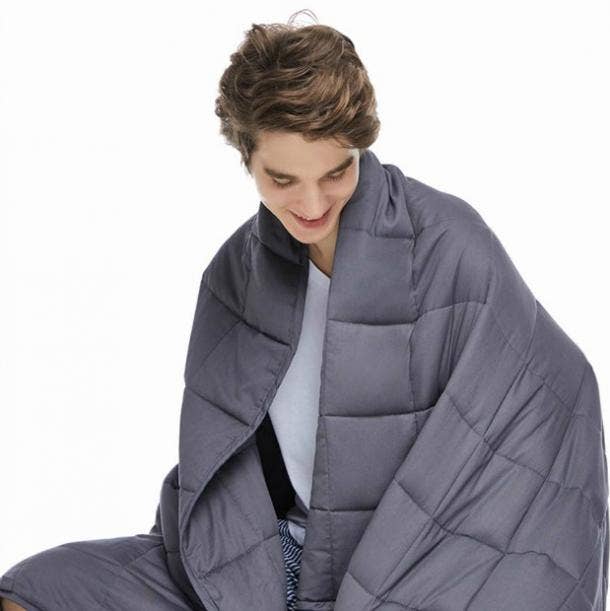 High-density sewing technology, two-layer microfiber is added to prevent loose threads and bead leakage. Smaller squares distribute glass beads inside the blanket evenly, and the soft cotton fabric keeps you at the perfect temperature.
(Check prices and reviews on Amazon)
17. Platinum Health Calmforter Weighted Blanket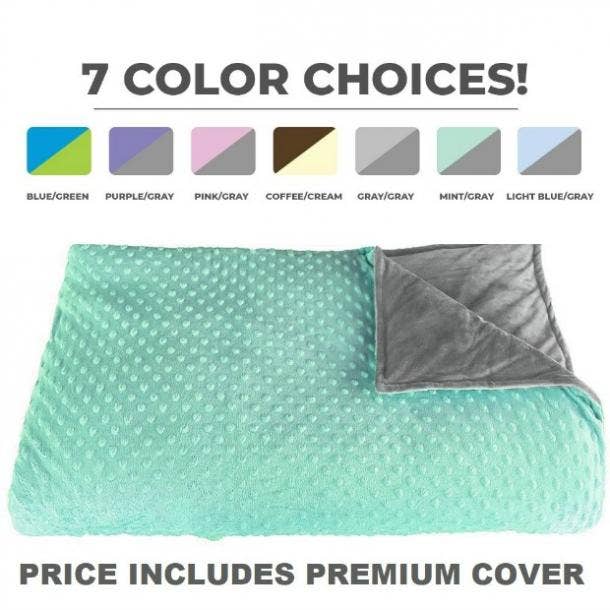 The outer cover is silky soft on one side, while the opposite side features unique SensaCool System that helps keep users cool. Completely reversible, the Calmforter features a uniform appearance since the entire weighting system is hidden inside the cover.
(Check prices and reviews on Amazon)
18. Magic Weighted Blanket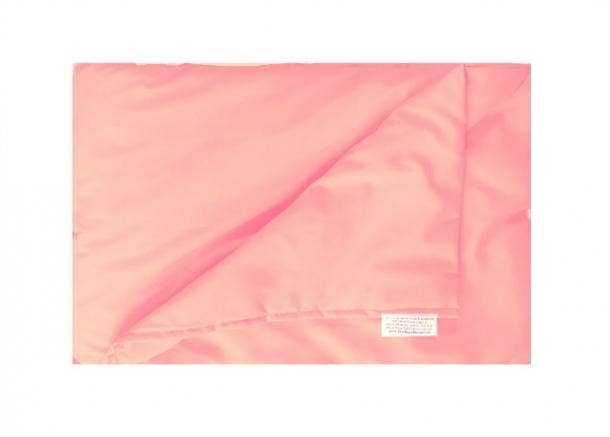 This blanket has two layers: the first layer holds Polly Pellets to create weight, stitched into pocket squares; the second layer is a soft cotton to create a hug-like effect. Each Magic Blanket is made to order from Los Angeles to ensure every blanket is special. While most weighted blankets are now mass produced in China that require hand washing and a duvet cover with a zipper, this is all one piece so you never have to assemble it or hand wash.
(Check prices and reviews on Amazon)
19. Degrees of Comfort Weighted Blanket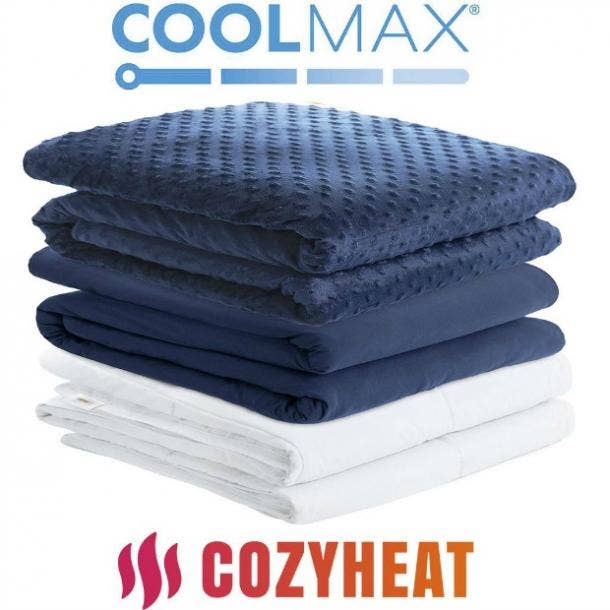 The Nano-Ceramic Bead Technology makes this blanket stand out when it comes to quality comfort. Infused through a patented forging method, the filling beads are more durable than low-quality plastic beads and more comfortable than glass beads because they seamlessly blend together, creating a unified weight distribution.
(Check prices and reviews on Amazon)
20. ZZZhen Weighted Blanket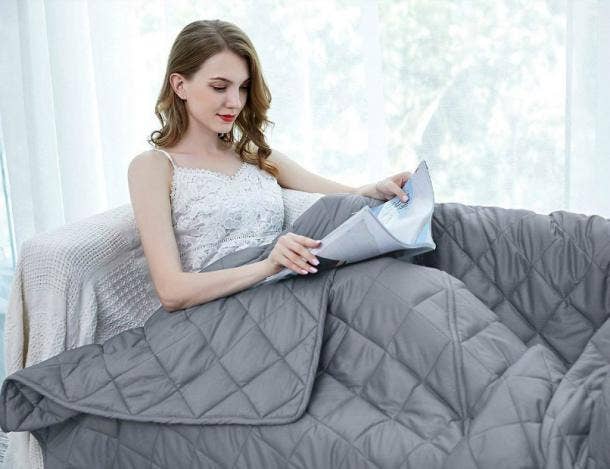 Sleep soundly and wake up energized with the ZZZhen full-cotton filled weighted blanket. Getting enough sleep is essential to your health and happiness, so let restlessness be a thing of the past. The ZZZhen's box stitching reduces the shifting of fillings, and helps ensure an even layer of weight and thickness throughout.
(Check prices and reviews on Amazon)
Aly Walansky is a NY-based lifestyles writer who focuses on health, wellness, and relationships. Her work appears in dozens of digital and print publications regularly. Visit her on Twitter or email her.
YourTango may earn an affiliate commission if you buy something through links featured in this article.