The moment we have all been waiting for has finally arrived: pumpkin season is here! We know you're going to taking the cutest pumpkin pics, so we've compiled the best pumpkin quotes and puns for the perfect fall Instagram captions.
Pumpkin carving and decorations have been a fall staple for centuries now and continue to keep our homes looking fall-ready.
Today we carve pumpkins and use them as decor as a fun Halloween craft, but in early times, carved pumpkins were actually believed to scare away evil spirits. The pumpkin is also symbolic of prosperity and growth, giving you all the more reason to hit the patch.
Because they are outside, going to a pumpkin patch is one of the few COVID-friendly Halloween activities that you can participate in this year. With most pumpkins costing around five to twenty dollars, they are also a reasonably priced activity that everyone in your squash, I mean squad, can enjoy.
Grab your pumpkin spice latte, put on your flannel, and pick out the best pumpkin quotes for your pics.
[embedded content]
Pumpkin Puns
1. "Let's give 'em pumpkin to talk about."
2. "Let's pumpkin spice things up a bit."
3. "I love pumpkin spice a latte."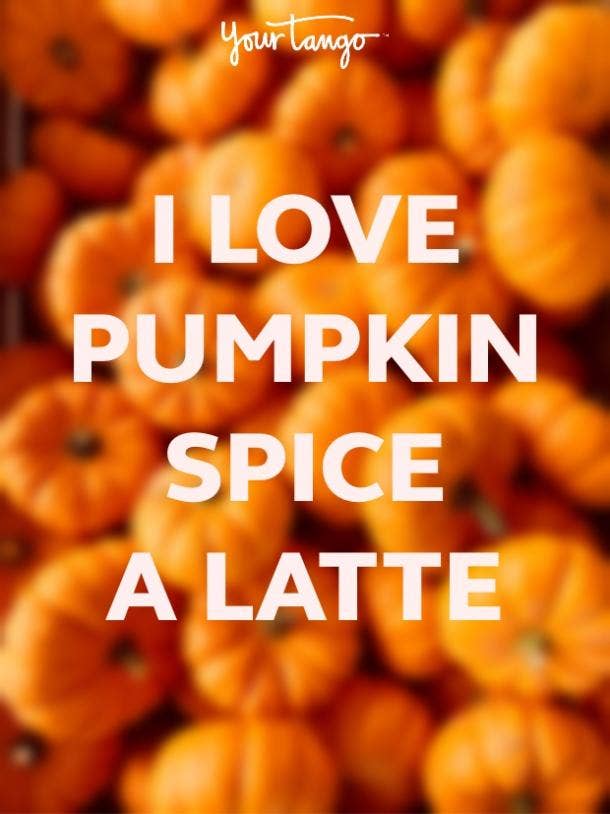 4. "Hello gourdgeous!"
5. "Squash goals!"
6. "Don't be a jerk-o-lantern."
7. "Pumpkin spice season is finally here, better latte than never."
8. "Pumpkin spice and everything nice."
9. "Pumpkin iron at the gym."
10. "Gourd vibes only."
11. "Orange you pumped for Halloween."
12. "Carving out fun."
13. "I'm a pun-king."
14. "Go big or gourd home."
15. "Ready to squash the competition."
16. "Life is gourd."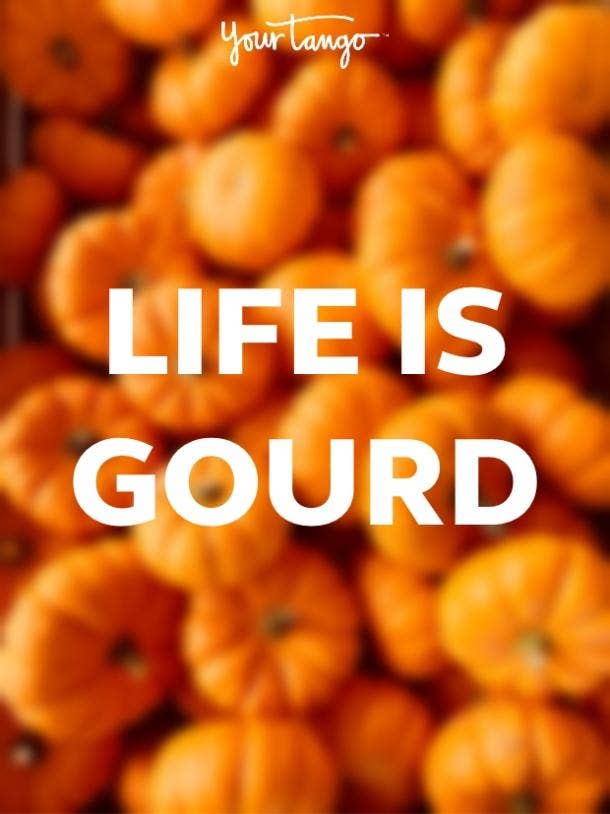 17. "How do you mend a broken jack-o-lantern? With a pumpkin patch."
18. "Oh my gourd, it's already fall?!?"
RELATED: 75 Clever Halloween Instagram Captions
Pumpkin Puns For Couples
19. "Picked a good one."
20. "You're the pick of the patch."
21. "Smashing pumpkins. Wink wink."
22. "I'll love you till the end of vine."
23. "The cutest pumpkins in the patch."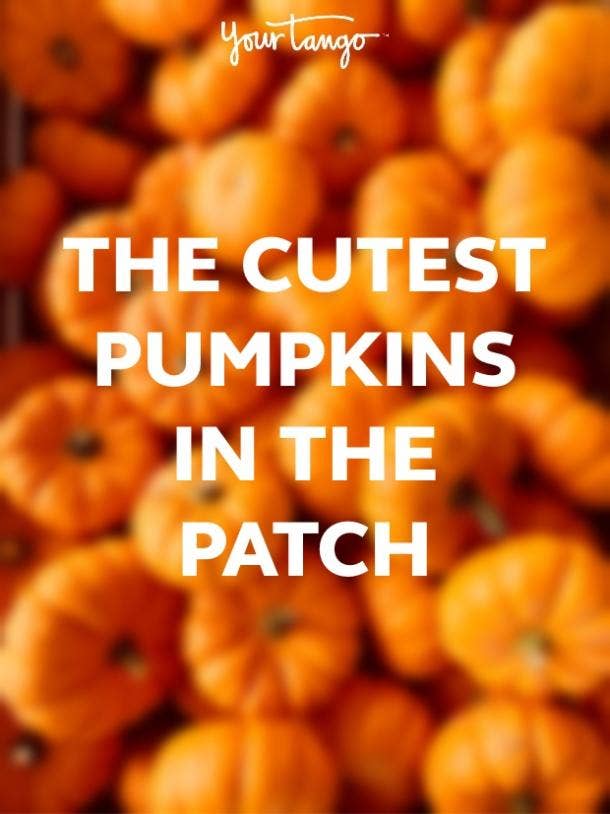 24. "Wow, this pumpkin is totally jacked."
25. "You've carved out a piece of my heart."
26. "Life is gourd with you around."
27. "Hanging with my pumpkin."
28. "Carving out some fun with bae."
29. "Pumpkin spice and chill."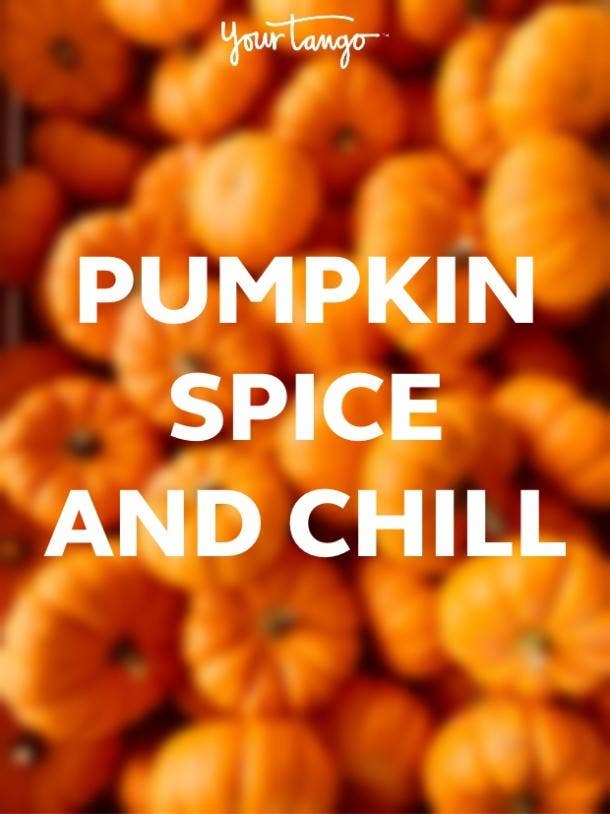 30. "You're the pumpkin spice to my latte."
31. "You'll always be my boo."
Pumpkin Quotes
32. "There are three things I have learned never to discuss with people … religion, politics, and the great pumpkin." — Charles M. Shulz
33. "Women are like pumpkins; you search and search for the perfect one, bring it home, and the next thing you know, you're looking for a knife." — Dana Gould
34. "Once a pumpkin, always a pumpkin." — Billy Corgan
35. "Pumpkin spice lattes are egg nog for morning people." — John Oliver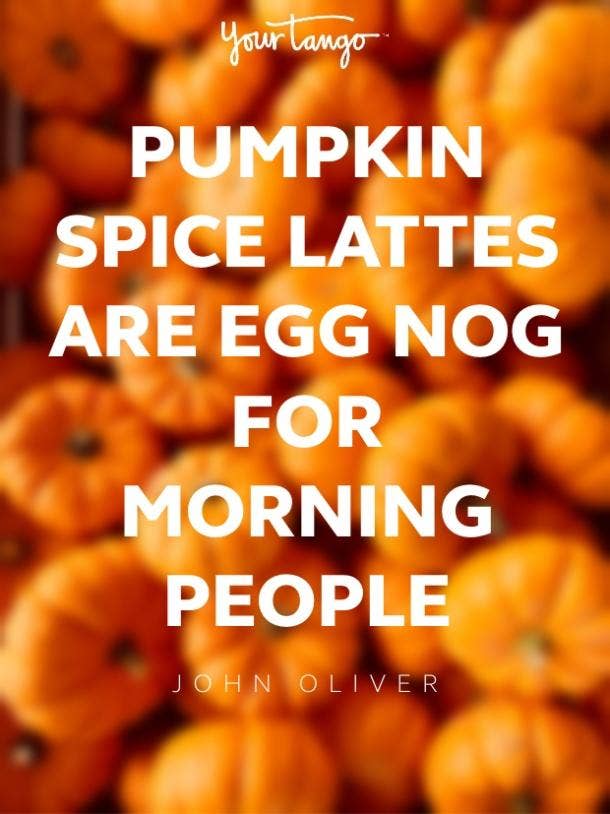 36. "Pumpkins are the only living organisms with triangle eyes." — Harland Williams
37. "And I Jack, the Pumpkin King, have grown so tired of the same old thing." — Tim Burton
38. "I was born a pumpkin, I will live a pumpkin, and I will die a pumpkin." — Daniel Webster
39. "Pumpkin light, Pumpkin bright, first pumpkin I see tonight. Wish I may, wish I might, wish I had a prizewinner tonight." — Charlie Brown's Great Pumpkin
40. "A man my age has nothing left to do but move to the country and grow big pumpkins." — President Chester A. Arthur
Lindsey Matthews is a writer who covers love and relationships, news, and pop-culture topics.