It probably leaves a better taste in your mouth than his music.
Justin Bieber broke the internet when he revealed his manhood to the world, while burning the term "penis leak" into my Google search history forever.
Despite being second only to the pop band Nickelback on the list of things Canada should apologize for, Justin Bieber and his penis began flooding the inboxes and social media feeds of women everywhere (and I'm guessing quite a few dudes, too) after paparazzi took nude photos of the singer relaxing at his hotel in Bora Bora in his full glory from an aerial view.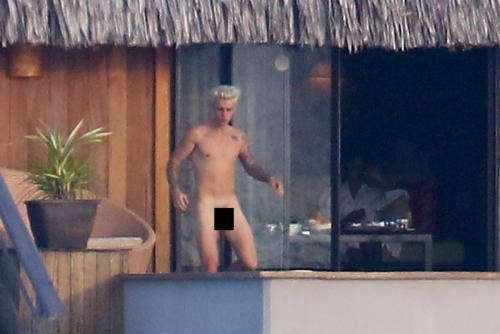 [embedded content]
And if anyone was still naïve enough to believe the lie that size doesn't matter, reflect on this moment and the mass hysteria that Justin Bieber's big d*ck can cause — and let Justin make a Belieber out of you.
Here's what we've learned about the Biebs's giant man business:'
1. It's more than a mouthful
Let's not beat around the bush — he's equipped like a Spartan (as in naked as a jay bird). And let's just say you might need to clear out some hard drive space to accommodate the … uh … large file size of these photos.
Any spiteful non-fans assuming he was overcompensating are going to have to simply hate him for his villainous crimes against music (challenge accepted). And while he may not measure up to current penis size record-holder Jonah Falcon, we're definitely impressed.
2. It makes his father creepily proud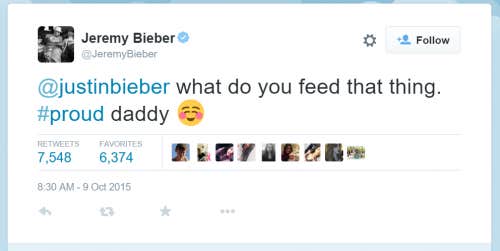 Nothing says 'functional family' like your dad complimenting your penis on Twitter.
On the plus side, this could be the perfect advertising opportunity for Google+: "Google+ — where no one will ever see your inexplicable incestuous musings."
3. Its owner doesn't care that it's all over the internet
Yeah, there's definitely a weird double-standard when it comes to nude photos that makes it OK to talk about the penises, but not vaginas.
But in this case, Justin Bieber doesn't mind his penis being exposed to the masses, at least, according to TMZ, though he did comment to Access Hollywood that he felt violated: "My first thing was like, 'How can they do this?' Like, I feel super violated. Like, I feel like I can't step outside and feel like I can go outside naked. Like, you should feel comfortable in your own space... especially that far away," Bieber said.
So let's save the self-righteous, morally superior soapboxes for another time. Let's just be outraged that enough people care about him that I have to write this article in the first place.
And let's be honest, keeping things private is hardly Bieber's strong suit. Whether it's even more naked photos of him making the rounds (Seriously, does this dude ever wear clothes?) or his very public, very immature, on-going online feud with ex Selena Gomez — the Bieb's is letting it all hang out.
4. It's (mostly?) hairless
Dude is shaved like an Olympic swimmer going through chemo (in case you were wondering about the manscaping situation).
Although, it's hard to tell if he's gone fully hairless because of the blurriness of the photos. Why are we not funding a CSI team to enhance these pictures?
At least that way I won't have to explain to my girlfriend why my face is two inches away from my monitor with Bieber's naked junk practically resting on my nose while I try to decipher the pixels.
5. It reveals who the creeps are on your Facebook feed
It's one thing to ogle nudes photos and fantasize about celebrities (guilty as charged). But, it gets kinda creepy when people are so comfortable talking specifics on social media.
Proclaiming your excitement over nudes is basically saying to your friends and family, "Hey, I plan to masturbate to this today."
6. It showed up just in time to create buzz for his next album
Sex has been selling music for a long time now.
There's no hard evidence to backup the idea that this may be a publicity stunt, but it's definitely one way to get your name in the zeitgeist.
7. Biebs recently commented on Cody's Simpson's ... manhood
The incriminating photo looks like it's since been deleted from Cody's Instagram page, but Pop Buzz has a screenshot of the snap featuring Cody in a Speedo. The Biebs cheekly commented on it, 'Hung like a carrot,' to which Simpson responded: 'Carrots are good for you.' Well, ok then. Miley: tell us the truth!
[embedded content]
Yes, Bieber. It's too late to say "Sorry." But, thanks anyway.
Bob Alaburda is a former editor for YourTango.