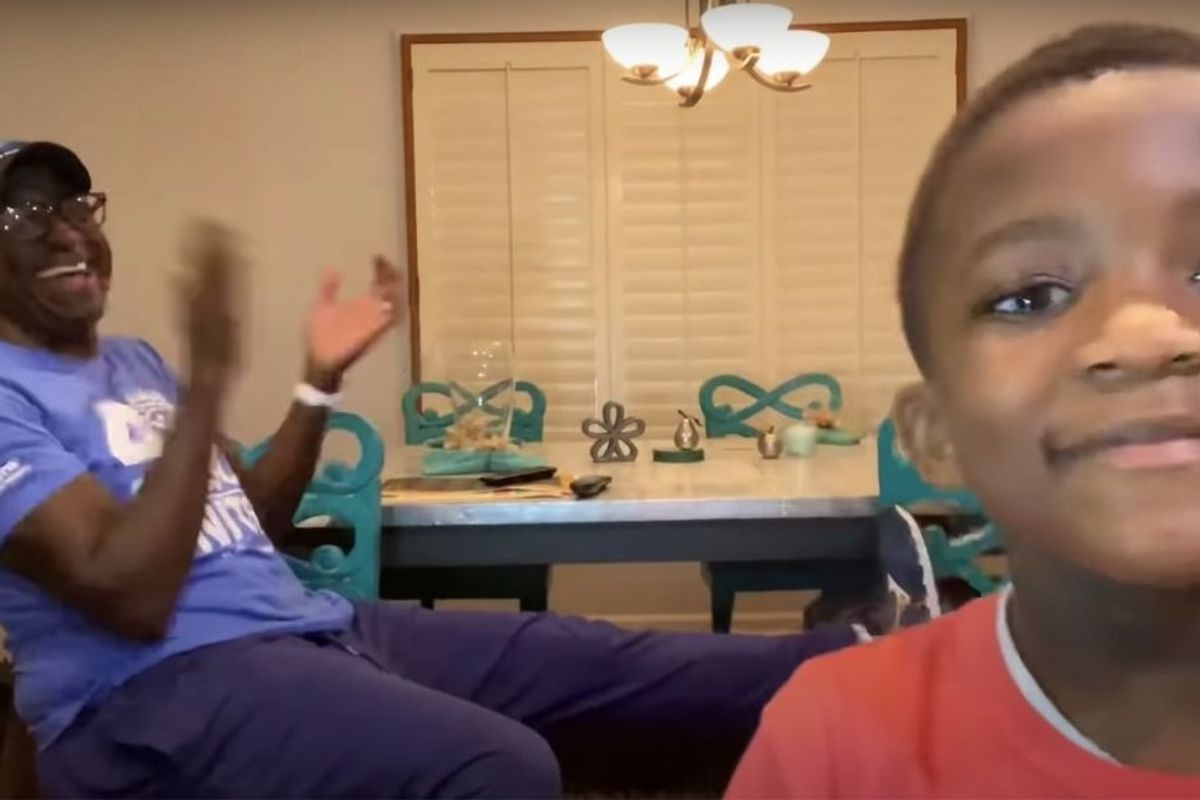 Sam White may only be six years old, but he's got skills that surpass most adults.
The Tennessee youngster and his dad, Robert White, have swept social media and stolen people's hearts in their "YouCanBeABCs" rap collaboration. With dad beat boxing in the background, 6-year-old Sam expertly takes us through the entire alphabet in order, naming careers kids can aspire to with short, clever, rhyming descriptions of each one.
You can be a "A"—You can be an ARCHITECT
Catch a building to kiss the sky
You can be a "B"—You can be a BIOCHEMIST
Makes medicines, save lives
You can be a "C"—COMPUTER SOFTWARE DEVELOPER
With programs and systems and files
You can be a "D"—You can be a DENTIST
Cuz everybody loves to smile
Sam's ease in front of the camera, skill in rapping the lyrics, and obvious joy in performing are a delight to witness. And dad in the background, backing him up with a beat, makes for both a sweet backdrop and a metaphor for strong, steady, supportive parenting.
---
It's all the more impressive when you learn that Sam memorized the whole thing. Robert shared on Facebook that the kiddo is looking at the camera, not a teleprompter, while he raps. He added that Sam also did his own choreography.
Just watch:
It's common for young kids to explore careers in school, but this list is much more specific than many kid lists of jobs. From gastroenterologist to mobile app developer to quantum physicist, the careers they include and their simple descriptions are both entertaining and educational. The list is diverse, from highly academic jobs like quantum physicist to hands-on skilled jobs like truck mechanic. They even include "YOUR OWN BOSS" for "Y" and wrap it up with "ZEALOUSLY STRIVE" for "Z," since no matter what a kid decides to be or do they'll need to work hard and do their best. Finally, "Don't be a ZOMBIE and let the world pass you by" is the perfect ending to darn near perfect video.
Seeing dad's burst of joy when they finish and Sam's sweet smiling face is almost too much to take. So dang sweet. So dang cute. So much respect for this family.
The video has gotten huge reach, with 275,000 people sharing it in just three days. The son and dad have a YouTube channel and an Instagram account, which Robert White wrote on Facebook that they "are just starting to build it out with content that reflects why Sam has kept us smiling and full of joy since the day he was born."
Hopefully we'll see more from this dynamic duo. Thanks for the smile, White family!