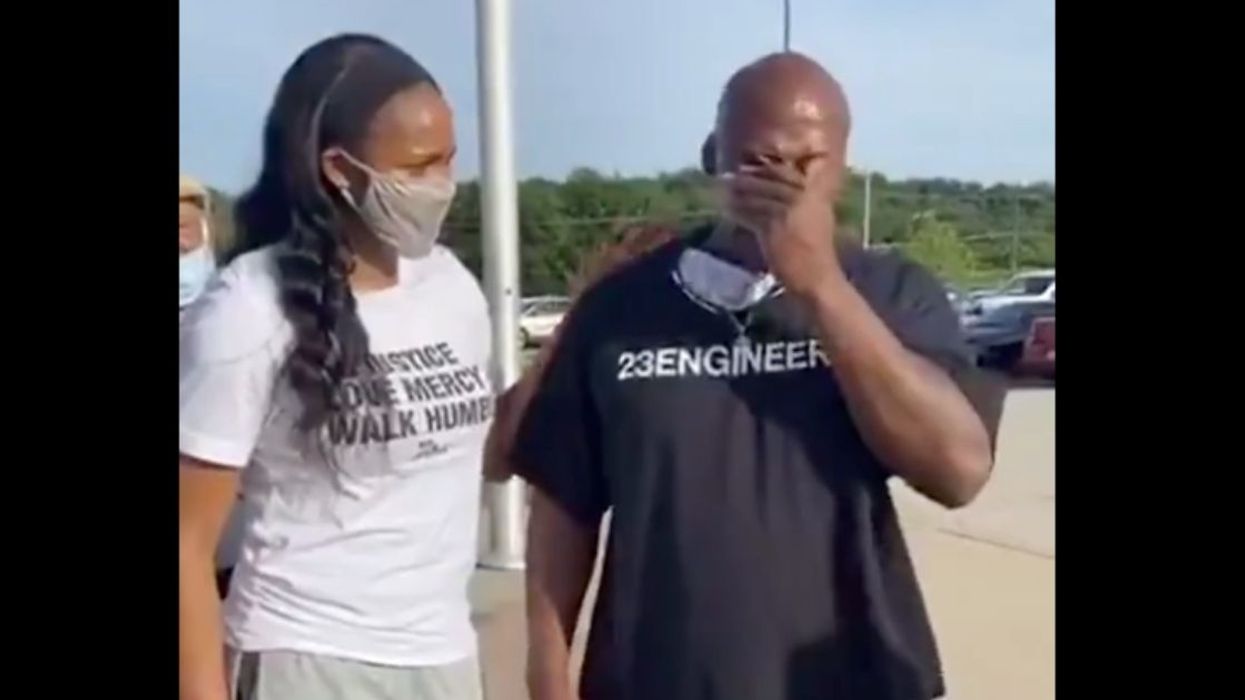 When Jonathan Irons was 16, he was put on trial for burglary and assault with a weapon. According to CBS Sports, Irons was tried as adult, and an all-white jury found him guilty—despite there being no witnesses, no fingerprints, no footprints, and no DNA proving his guilt.
Irons began his 50-year sentence in a Missouri state prison in 1998. Now, 22 years later, he's a free man, largely thanks to the tireless efforts of a WNBA superstar.
Maya Moore is arguably the most decorated professional women's basketball player in the U.S. A first-round draft pick in 2011, she's played for the Minnesota Lynx, where she became a six-time WNBA All-Star, a five-time All-WNBA First Team player, a four-time WNBA champion, and the WNBA Most Valuable Player in 2014.
But before the 2019 season, in the peak of her career, Moore decided to take the year off for a different kind of court battle—one that had wrongfully convicted a young man and doomed him to spend most of his life behind bars. Her decision rocked her sport, and there was no guarantee that sacrificing an entire season to fight for criminal justice reform would bear any fruit.
---
Moore's family met Irons through a prison ministry program. According to The Undefeated, Irons wouldn't have been eligible for parole for another 20 years, but in March a Missouri judge overturned his conviction. A string of appeals were rejected, the Supreme Court refused to take the case, and the lead prosecutor declined to retry Irons.
That meant he was free.
Moore was at the prison to meet Irons when he walked out, falling to her knees in the emotional moment.



WNBA star Maya Moore sat out the entire season last year and helped overturn the conviction of Jonathan Irons, who… https://t.co/NFjYS0RgtC

— Bleacher Report (@Bleacher Report)1593648625.0

"I feel like I can live life now," Irons said in a video from outside the prison. "I'm free, I'm blessed, I just want to live my life worthy of God's help and influence... I thank everybody that supported me, Maya and her family... To have somewhere to be home, I'm so grateful."
Moore told Good Morning America after Irons' release, "In that moment, I really felt like I could rest. I'd been standing, and we'd been standing, for so long; and it was an unplanned moment where I just felt relief. It was kind of a worshipful moment, just dropping to my knees and just being so thankful that we made it."
Since she hasn't had any time to truly rest in the past year of working toward this goal, Moore will continue her hiatus from basketball through the 2020 season.
Minnesota Lynx coach and general manager Cheryl Reeve expressed some understandably mixed feelings in a statement that beautifully encapsulates the power of the moment and also the problem that it highlights:
"Maya Moore got to celebrate another championship yesterday and none of us who have been blessed to have Maya in our lives are surprised. I cannot imagine, however, what this one must feel like. I was overwhelmed seeing Maya watch Jonathan Irons walk out of the Jefferson City Correctional Center a free man. For the last few years we watched as she gracefully committed herself to Jonathan's case, and as she has done so often on the basketball court, put the Irons team on her back. I am overcome with joy that Maya and all involved were able to reach their goal of Jonathan's exoneration.
I also can't help but feel a great deal of anger. Maya Moore should never have had to leave her profession to engage in the fight against the two-tiered criminal justice system that over polices, wrongfully convicts, and over sentences black and brown communities. The criminal justice system in America is so far from fair and equal and it angers me that Maya has had to sacrifice so much to overcome this racially disparate system.
On behalf of the Lynx organization, we are so proud of Maya for earning the biggest win of her career. I am sure that she was voted MVP of this championship, too. This time there is no hardware to take home to the trophy case, just a wrongfully convicted black man walking free."