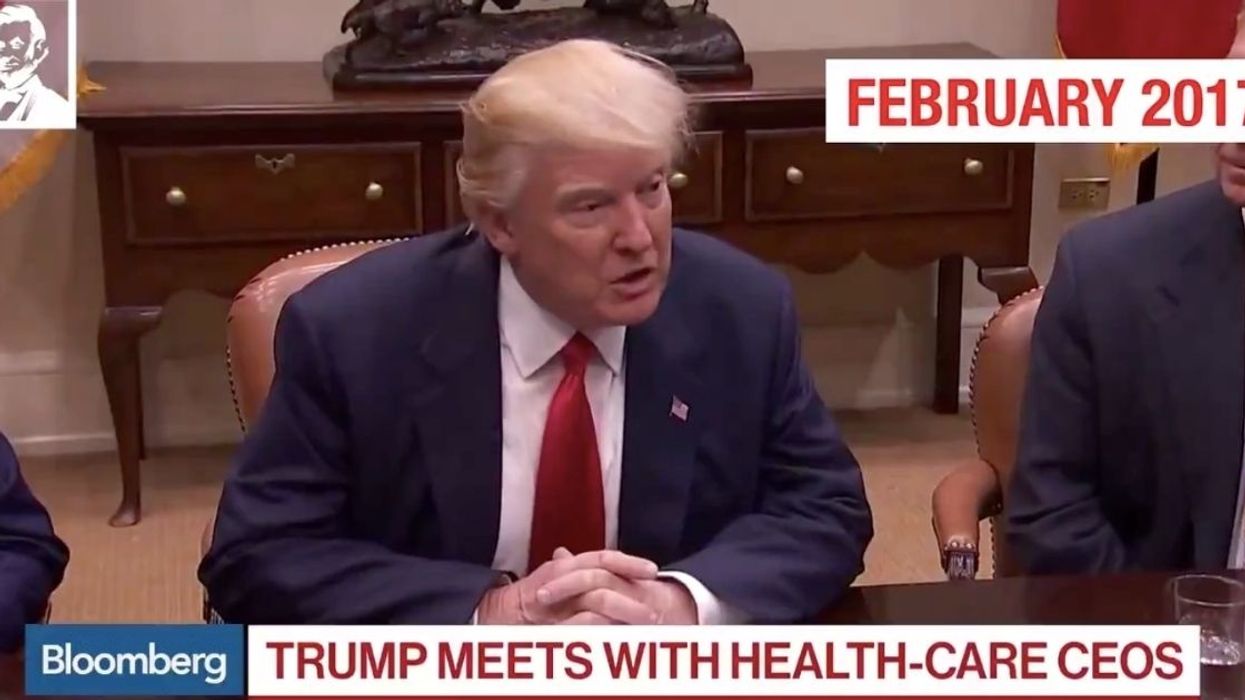 Since he first ran for the presidency, Donald Trump has been on a mission to destroy the Affordable Care Act, aka Obamacare. Whether he attacks the plan that made health insurance available to more than 20 million Americans because he genuinely understands it and doesn't like it or because it's something that Obama did is unclear, but either way, getting rid of it has been on his agenda for four years.
(Now might be a good time to remind people that the bones of the Affordable Care Act were built by Republican Mitt Romney, whose Massachusetts healthcare reform during his time as Governor served as a model for Obamacare.)
Trump's promises to take down Obamacare have been accompanied by promises to replace it with something better. After all, if you take away a healthcare law that protects people with pre-existing conditions and makes health insurance available to millions who couldn't afford it, you have to put something in its place or you literally put people's lives at risk.
The president appears to know this, because he keeps saying he's got a healthcare plan coming. The best healthcare. The most tremendous healthcare. Fantastic. Terrific. A big, beautiful plan the likes of which the world has never seen before. And it's coming soon. Very soon. So very soon. Within two weeks, he's said several different times, many months apart.
Biden pointed out at last night's debate that Trump has no plan for healthcare, and Trump again repeated what he's been saying since at least January 2017. The Lincoln Project compiled these claims in one video, and even though we've heard them before, it's striking to see almost four years of promises condensed into a minute and fifteen seconds.
---



Trump's healthcare plan is around the corner. https://t.co/jCTUF9TjoQ

— The Lincoln Project (@The Lincoln Project)1603465539.0

How long can a president say something is coming "very soon" and not make it happen? Apparently, an entire presidential term. Neato.
What's extra odd is that this mystery healthcare plan is also being peddled by spokespeople in his administration, with some rather hilarious optics to go along with it. Trump's press secretary Kayleigh McEnany handed 60 Minutes journalist Leslie Stahl a staggeringly thick hardcover book, and a photo shared by the president himself showed Stahl opening it to an empty page. Jokes ensued about the entire book being blank, and since America hasn't been given the opportunity to see it, nobody really knows what's in it.
We do, however, have Trump's September 24 "Executive Order on an America-First Healthcare Plan." In it he dedicated nearly 3600 words to things his administration has done regarding healthcare (such as eliminating the ACA individual mandate, lowering drug prices, and increasing telehealth accessibility during the pandemic) and less than 500 words outlining his objectives for the future (which can basically be summed up as "make healthcare affordable and provide choice" without any actual plans or policy details for doing that). Apparently, a comprehensive healthcare plan in Trumpland means a piecemeal approach that only gets pulled together in hindsight.
In other words, he still doesn't have a healthcare plan to replace Obamacare. And that's a little bit important since the Supreme Court will be ruling on the constitutionality of the ACA on November 10.
But don't worry, I'm sure that plan be coming very, very, very soon.