He's a law professor.
Elizabeth Warren is more than just a Senator — she's also a former law professor, consumer protection advocate, and an American progressive who is shaping politics. Since 2013, she's served as a U.S. Senator from Massachusetts, becoming the first woman from her state to hold the position.
Since being elected, she's served on the Senate Special Committee on Aging, the Health, Education, Labor, and Pensions Committee, as well as the Banking, Housing, and Urban Affairs Committee.
But her political career hasn't been without controversy. In October 2018, she came under fire for releasing DNA results that show she has distant Native American ancestry, as a response to the president name-calling and referring to her as "Pocahontas." Native American groups have criticized her for appropriation, with The Cherokee Nation saying it's "dishonoring legitimate tribal governments and their citizens."
However, the big news surrounding Warren right now is her run for president in the 2020 election. Warren officially announced her bid for the presidency in February 2019, where she made the following statement: "This is the fight of our lives. The fight to build an America where dreams are possible, an America that works for everyone. I am in that fight all the way. And that is why I stand here today: to declare that I am a candidate for President of the United States of America."
Since she's frequently in the spotlight calling out the president as well as her colleagues, and especially now that she's running for president, we're curious how her family feels about her viewpoints.
Who is Elizabeth Warren's husband, Bruce Mann? Obviously, it's important to support family, but does this affect their relationship? Here's what we know about their relationship, her 2020 election run, and the recent alleged fight between fellow candidate Bernie Sanders.
1. Who is Bruce Mann? He's a professor.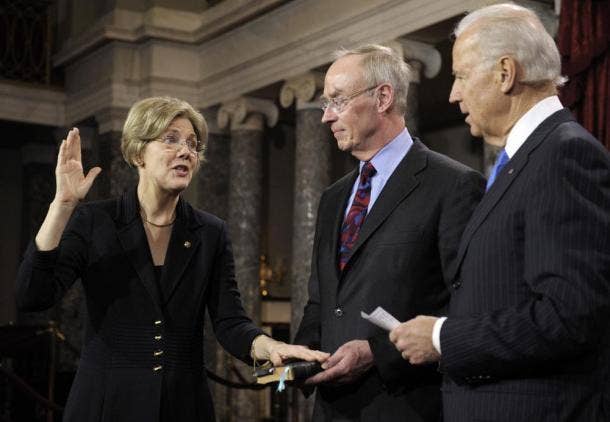 Warren being sworn in back in 2013 (Photo: Reuters/Joshua Roberts)
Mann is a professor of law at Harvard, as well as a legal historian. He currently teaches American Legal History, Property, and Trusts and Estates.
He's held his position as legal historian since 2006, and was previously a professor of law and history at UPenn. Mann has a long list of teaching jobs, including University of Houston, University of Michigan, and was part of the history department at Princeton.
2. He holds multiple college degrees.
According to his bio on the Harvard website, Mann graduated with A.B. and A.M. degrees from Brown University, and has a J.D. and Ph.D. from Yale. He's also a published author of Neighbors and Strangers: Law and Community in Early Connecticut, The Many Legalities of Early America, Republic of Debtors: Bankruptcy in the Age of American Independence, and has had essays published in law reviews and history journals.
3. Mann is Warren's second husband.
Warren was previously married to Jim Warren, with whom she has two children, Amelia and Alexander. The couple divorced in 1978, and Warren married Mann in 1980.
Mann described their first meeting in a September 2019 interview, commenting that it was love at first sight for him. "Even from that distance, I was just drawn to her. She was so just lively, so animated, so engaged. And I just fell for her from 25 yards out before even meeting her," Mann said.
Though the couple have no children together, they do have grandchildren.
4. They adopted a puppy to celebrate their anniversary.
In July 2018, when the couple celebrated 38 years together, they got a puppy for the occasion. According to Warren, "Today is our anniversary, and I'm reminded of one more reason I love Bruce: He knows about the things my heart wants."
Their previous dog, Otis, passed away in 2012, and they weren't considering getting another one until she finally relented. "A few weeks ago, Bruce said, 'We're getting a dog.' I started to recite the list, and Bruce just smiled. 'The heart wants what the heart wants.' And now we have Bailey who chews, piddles, and makes my heart happy," she said.
5. Warren proposed to Mann.
Talk about unconventional!
6. Mann has the same political opinions as his wife.
Mann seems to completely back Warren on her views on politics, from everything including the economy, the environment, and taxes. He has even commented on it, saying, "The issues are important, what's at stake is important, and Elizabeth has a real contribution to make. These are the issues she has worked on, thought about deeply for decades."
7. Warren is reportedly feuding with fellow presidential candidate, Bernie Sanders.
Before the most recent Democratic debate, Warren revealed that Bernie Sanders, a fellow candidate, made sexist comments and allegedly said that a woman should not be president. 
In December 2018, the two senators reportedly met at Warren's Washington, D.C. apartment, where Warren explained to Sanders why she thought that she'd make a good candidate for president. However, Sanders reportedly responded by stating that he didn't think a woman could win the presidency.
Both Warren and Sanders have commented publicly about the incident, but have disagreeing views on what really happened. Warren maintained her stance that Sanders did make the comment, saying, "I thought a woman could win; he disagreed." 
However, Sanders has denied the statement, responding, "It is ludicrous to believe that at the same meeting where Elizabeth Warren told me she was going to run for president, I would tell her that a woman couldn't win. It's sad that, three weeks before the Iowa caucus and a year after that private conversation, staff who weren't in the room are lying about what happened. What I did say that night was that Donald Trump is a sexist, a racist and a liar who would weaponize whatever he could. Do I believe a woman can win in 2020? Of course! After all, Hillary Clinton beat Donald Trump by 3 million votes in 2016."
The event is still a matter on the mind's of everyone as evidenced by a recent January 2020 debate in Iowa, where Sanders was asked about the incident. The Senator gave the following response: "Well, as a matter of fact, I didn't say it. And I don't want to waste a whole lot of time on this, because this is what Donald Trump and maybe some of the media want. Anybody who knows me knows that it's incomprehensible that I would think that a woman cannot be President of the United States."
Warren responded as well, saying, "I disagreed. Bernie is my friend, and I am not here to try to fight with Bernie. But, look, this question about whether or not a woman can be president has been raised, and it's time for us to attack it head-on."
8. Mann is supporting Warren with her 2020 run.
When Warren was considering whether or not she should run for president back in 2019, Mann was one of the people she trusted the most to ask for an opinion before going public with the decision.
He relayed what happened, saying, "She saved me for last, and finally, she asked me for three reasons, pro and con. And I said, no, I'm not going to do it. I said, you're gonna run anyways. So just doesn't matter. Because if you don't run and Democrats lose, you'll feel guilty because then that means there'd be no one to fight for the people and the issues that you care about."
Mann also supported his wife by commenting on why he thinks people have voted for her in polls, adding, "She's always had just an extraordinary ability to explain complex issues, clearly, memorably. Watching people who hear her respond to her as she reaches them, as she helps them see how the issues touch their lives — it's, I'm watching her teach on a larger stage."
Samantha Maffucci is an associate editor for YourTango who focuses on writing trending news and entertainment pieces. In her free time, you can find her obsessing about cats, wine, and all things Vanderpump Rules.