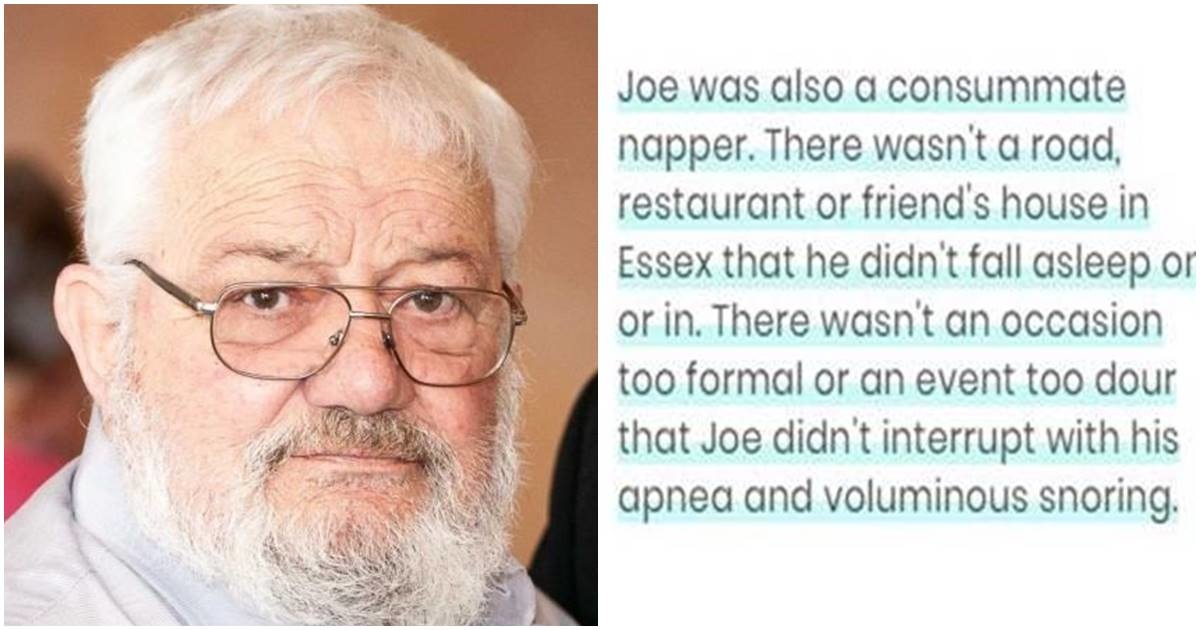 Joe Heller (1937 - 2019) of Essex, Connecticut appears to have lived a full life: he was in the Navy, worked at the Yale library, and raised three daughters. But he was also a hoarder, a hardcore napper, and loved pulling pranks that involved feces.

Well, as Abe Lincoln once said,"A man without vices is a man without virtues."
His hilarious obituary, believed to be penned by one of his daughters, is going viral because it paints a loving picture of a man who clearly didn't take life too seriously — a lesson we could all use from time to time.
---
The obituary opens with a helluva zinger.
Joe Heller made his last undignified and largely irreverent gesture on Sept. 8, 2019, signing off on a life, in his words, 'generally well-lived and with few regrets.' When the doctors confronted his daughters with the news last week that 'your father is a very sick man,' in unison they replied, 'you have no idea.'
In his youth, Heller played the role of a prankster.
Being the eldest was a dubious task but he was up for the challenge and led and tortured his siblings through a childhood of obnoxious pranks, with his brother, Bob, generally serving as his wingman. Pat, Dick and Kathy were often on the receiving end of such lessons as "Ding Dong, Dogsh*t" and thwarting lunch thieves with laxative-laced chocolate cake and excrement meatloaf sandwiches. His mother was not immune to his pranks as he named his first dog, "Fart," so she would have to scream his name to come home if he wandered off.
He met the "love of his life" at work and his daughter can't believe he fooled her into marriage.
Joe was a self-taught chemist and worked at Cheeseborough-Ponds where he developed one of their first cosmetics' lines. There he met the love of his life, Irene, who was hoodwinked into thinking he was a charming individual with decorum. Boy, was she ever wrong. Joe embarrassed her daily with his mouth and choice of clothing. To this day we do not understand how he convinced our mother, an exceedingly proper woman and a pillar in her church, to sew and create the colorful costumes and props which he used for his antics.
Heller had a knack for creatively intimidating his daughters' boyfriends.
Growing up in Joe's household was never dull. If the old adage of "You only pull the hair of those you love" holds true, his three daughters were well loved. Joe was a frequent customer of the girls' beauty shops, allowing them to "do" his hair and apply make-up liberally. He lovingly assembled doll furniture and built them a play kitchen and forts in the back yard. During their formative years, Joe made sure that their moral fibers were enriched by both Archie Bunker and Benny Hill. When they began dating, Joe would greet their dates by first running their license plates and checking for bald tires. If their vehicle passed inspection, they were invited into the house where shotguns, harpoons and sheep "nutters" were left clearly on display.
He never met a dog he didn't like.
After retiring from running Bombaci Fuel, he was perhaps, most well-known for his role as the Essex Town "Dawg Kecher." He refused to put any of his "prisoners" down and would look for the perfect homes for them. One of them was a repeat offender who he named "A**hole" because no owner would ever keep him for very long because he was, in fact, an a**hole. My Dad would take his buddy on daily rides in his van and they'd roam around town with the breeze blowing through both of their fur. He never met a dog he didn't like, the same could not be said for the wanna-be blue bloods, snoots and summer barnacles that roamed about town.


He had a small issue with hoarding.
Joe was a frequent shopper at the Essex Dump and he left his family with a house full of crap, 300 pounds of birdseed and dead houseplants that they have no idea what to do with. If there was ever a treasure that he snatched out from under you among the mounds of junk, please wait the appropriate amount of time to contact the family to claim your loot.
Heller was born with an innate napping ability.
Joe was also a consummate napper. There wasn't a road, restaurant or friend's house in Essex that he didn't fall asleep on or in. There wasn't an occasion too formal or an event too dour that Joe didn't interrupt with his apnea and voluminous snoring.
According to the obituary, Heller will be laid to rest on Friday, September 13, at 10:00 am in Centerbrook Cemetery, but his family urges attendees to dress casually.
Joe despised formality and stuffiness and would really be ticked off if you showed up in a suit. Dress comfortably. The family encourages you to don the most inappropriate T-Shirt that you are comfortable being seen in public with as Joe often did. Everybody has a Joe story and we'd love to hear them all. Joe faced his death and his mortality, as he did with his life, face on, often telling us that when he dropped dead to dig a hole in the back yard and just roll him in.
You can read the entire obituary at Legacy.com.