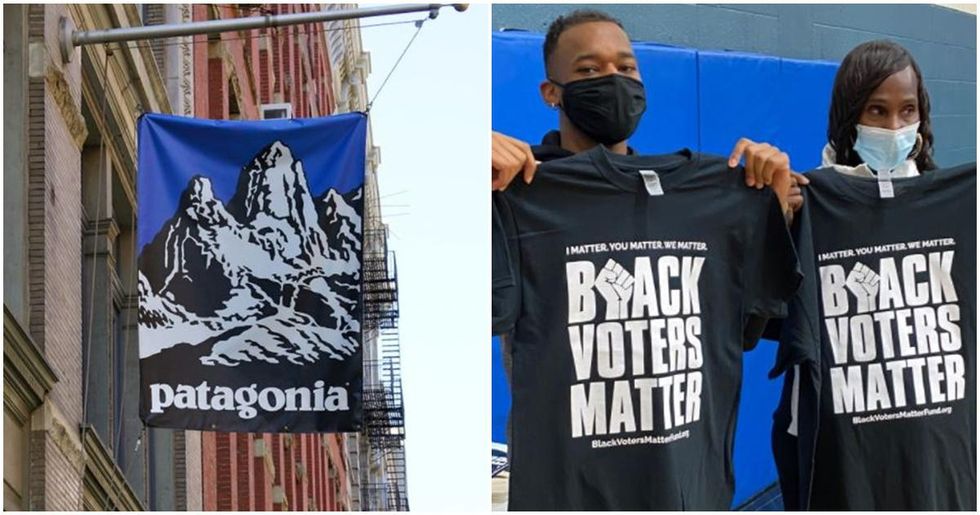 While major Georgia-based companies Coca-Cola and Delta fought back against the state's new voting rights law with strongly-worded opposition, Patagonia is putting its money where its mouth is and funding activists.

On Tuesday morning, the outdoor apparel maker announced it will donate $1 million to grassroots groups pushing for increased voter access in the state. Half of the money will go to the New Georgia Project, which works to register Georgians to vote.
The other half will go to Black Voters Matter Fund which works to increase power in marginalized, predominantly Black communities by fighting for voting rights.
---



More from voter rights protests inside the state Capitol today. #protecttheVoteGA #gapol https://t.co/VNPjrMmu3D

— ACLU of Georgia (@ACLU of Georgia)1617224485.0

Patagonia's CEO Ryan Gellert called on fellow CEOs to go beyond public statements and to take a more activist role in the fight.

"I call on fellow CEOs to join in denouncing these attacks on our democracy and to do more than make a corporate statement," Gellert wrote. "The strength of our democracy depends on every vote being counted everywhere, and we must protect access to the ballot box."
Gellert gave three specific ways that corporations can join Patagonia in the fight. First, they can fund "the activists working to challenge the recently passed laws," and provided a list in a press release.
Second, they can call on senators in the states where they do business and ask them to pass the John Lewis Voting Rights Advancement Act (VRAA). This bill would make it easier for people to vote in federal elections, end gerrymandering, and overhaul campaign finance laws.
His third request was to commit "to reaching out to business partners to facilitate speaking out against further state laws that would restrict voting access."



Actions speak louder than words.
We're donating $1 million to groups working to defend our democracy and your righ… https://t.co/r4JTXte35F

— Patagonia (@Patagonia)1617717629.0

Last week, Georgia Governor Brian Kemp signed SB 202, formerly known as the Election Integrity Act of 2021, into law. The law was passed in a party-line vote and backed by Republicans in the statehouse.

The law is seen as a response by Republicans to push back against big Democratic inroads made in the state in 2020. Democrats won two Senate states and the presidential election in a state that was red for 30 years.
The new laws are seen as an aggressive attempt to suppress minority votes in the state. The laws do so by giving people less time to send mail-in ballots and by only making them available upon request. It also mandates that voters provide some form of identification, a move that will disproportionately affect Black voters.
It also limits the number of ballot drop-off boxes in the state.
One of the most controversial aspects of the set of new laws is the ban on handing out food and water within 150 feet of a polling place, or within 25 feet of any voter. Republicans say it's a move to stop outside people from influencing voters. Democrats see it as a way to make sure voters are uncomfortable while waiting in long lines.
American democracy is the backbone of a system that allows for us to live in a civil society where businesses such as Patagonia can flourish. When states such as Georgia work to disenfranchise voters, it's a direct attack on the basic foundations that allow our society to thrive.
Patagonia is right to call on other business leaders to stand up and support the systems that are crucial in allowing them to exist in the first place. Let's hope that they heed the call.