She ended a previous relationship not too long ago.
Many "older" people remember a time before Instagram, Facebook, and social media platforms. Back when you'd hear that awful loading music while logging into AOL, and before YouTube was inundated with irritating ads every five seconds. Or, when MySpace was still a thing. Or, when there were only 16 choices for colors and MS Paint was the best kind of photo editing.
But now, it seems like kids and young teens are starting their careers early, aiming to become famous and rich by being social media influencers, or making videos on Tik Tok, YouTube, and Twitter. And while these teens from Generation Z may not make videos that resonate with anyone over 20, they've essentially created their own niche audience of people their age.
And there's one 18-year-old who's been trending for his supposed new relationship as Youtuber Emma Chamberlain's boyfriend. Who is Aaron Hull? Well, there may not be much information on his personal life, but it's pretty clear to fans that the two may be an item. 
1. He creates comedy videos.
Hull is known for his roleplay videos and has over 350,000 fans on TikTok. But before TikTok, he made videos on YouTube. Aside from his content, he was also a competitive swimmer and is bilingual in English and French.
2. She's been appearing in his videos.
While the two seem to have been friends for a while, fans noticed that she's been appearing in his TikTok videos. Last month, she joined one of his livestreams, and during another livestream, Hull admitted that his "celebrity crush" is Emma Chamberlain. Fans have started calling the two "Emron."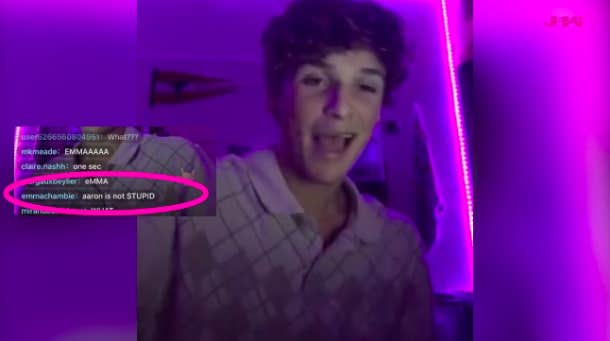 Photo: J-14
In addition, she follows him on the video streaming website, as well as Instagram, liking and commenting on multiple posts.
3. They've posted pics from the same place.
Two videos from both Chamberlain and Hull were apparently filmed in the same hotel bathroom! At least, that's what fans noticed. Other sleuthing revealed they shared pictures on the same day from the same location, and Hull posted a picture of two legs together, seemingly his and Chamberlains.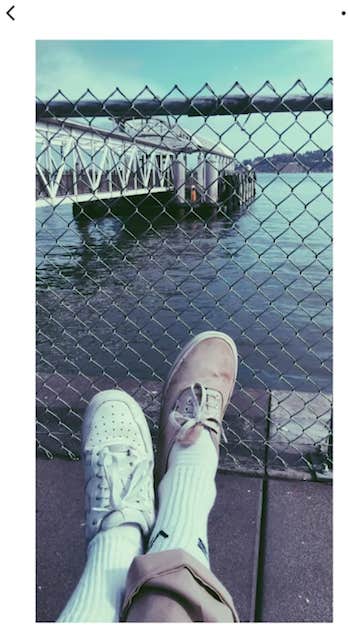 Photo: Instagram / J-14
In addition to Instagram pictures, Hull also posted a picture on his personal Snapchat of Chamberlain wearing his sweatshirt. According to a high school friend of his who leaked the photo, "[Emma] flew him out [to California]. They've been talking for months." They were also spotted together at Tropicália.
4. He apparently met her family.
The two flew out to San Francisco — where Chamberlain is from — and Hull met her parents. Why do fans think that? Well, not only were they posting photos from the same location, but her father later started following Hull on Instagram!
5. His name has been trending for other reasons.
A basic Twitter search for "Aaron Hull" brings up results for a different Aaron Hull. This other Hull is a Customs and Border Patrol (CBP) Sector Chief whose comments about detained migrant children have sparked outrage. According to him, the children appeared dirty because they refuse to shower, which is a disturbing claim. 
He said, "Every two days, these children are getting offered shower facilities. Now, we cannot make them shower. We can take them to the shower and we can put them there, but we can't physically make them shower... We encounter people from all over the world who are often very dirty and in soiled clothing when we encounter them. We can't control how they come into our custody. They're often dirty, but we make these facilities available to them and these clean clothes available to them."
6. She just ended another relationship.
Though it was never confirmed, Chamberlain was allegedly dating fellow YouTuber, Ethan Dolan, one-half of the Dolan twins. Hull unfollowed both of the twins recently.
Dubbed "Ethma" by fans, the two first started talking in May 2018, collaborating on numerous videos together, and broke up in August 2019. Dolan posted cryptic tweets, and they stopped commenting on one another's social media.
7. And she's also made comments about not wanting a public relationship.
In an interview with W Magazine, Chamberlain opened up about her romantic relationships and whether or not she's dating anyone. 
She said, "I don't know if I would ever have a public relationship, ever. And this is not coming from experience in any way; this is coming from morals. I'm speaking from what would feel right. Breakups alone are absolutely the most f***ing awful thing that exist. Why would you want other people to be heartbroken with you? I can't imagine that. And also, I don't like seeing other people's relationships. It's boring and it's gross."
Samantha Maffucci is an editor for YourTango who focuses on writing trending news and entertainment pieces. In her free time, you can find her obsessing about cats, wine, and all things Vanderpump Rules.