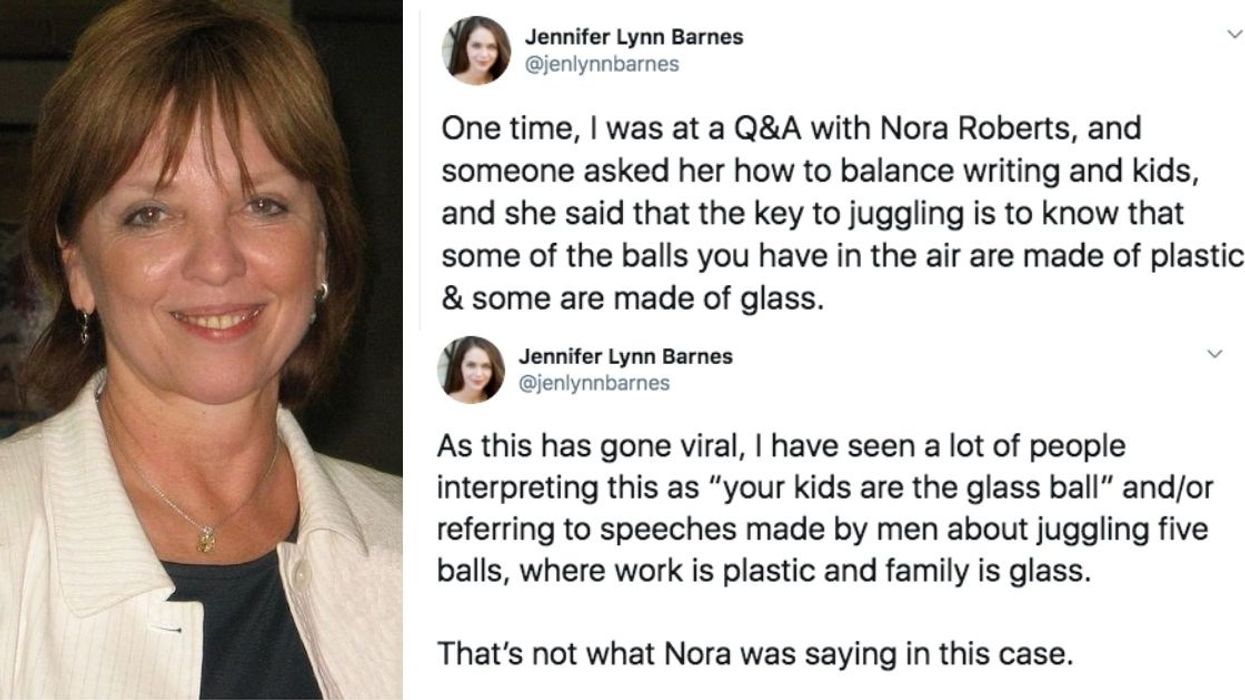 Working parents have always had the challenge of juggling career and kids. But during the pandemic, that juggling act feels like a full-on, three-ring circus performance, complete with clowns and rings of fire and flying elephants.
With millions of kids doing virtual learning, our routines and home lives have taken a dramatic shift. Some parents are trying to navigate working from home at the same time, some are trying to figure out who's going to watch over their kids while they work outside the home, and some are scrambling to find a new job because theirs got eliminated due to the pandemic. In addition to the logistical challenges, parents also have to deal with the emotional ups and downs of their kids, who are also dealing with an uncertain and altered reality, while also managing their own existential dread.
It's a whole freaking lot right now, honestly.
---
That's why a Twitter thread from January of this year—that blissful month before we knew that the novel coronavirus was making its way around the world—is resonating with parents now more than ever. Author Jennifer Lynn Barnes shared a bit of wisdom from prolific novelist and mother Nora Roberts. Roberts, who has written a whopping 215 books, did a lot of writing while raising her two children, so she has some experience juggling work and family life.
Barnes wrote:
"One time, I was at a Q&A with Nora Roberts, and someone asked her how to balance writing and kids, and she said that the key to juggling is to know that some of the balls you have in the air are made of plastic & some are made of glass.
And if you drop a plastic ball, it bounces, no harm done. If you drop a glass ball, it shatters, so you have to know which balls are glass and which are plastic and prioritize catching the glass ones.
I think about this ALL THE TIME. I dropped more than one ball today. It is hard to drop any ball, and I hate it! But they were plastic, and tomorrow, it will be okay.
As this has gone viral, I have seen a lot of people interpreting this as "your kids are the glass ball" and/or referring to speeches made by men about juggling five balls, where work is plastic and family is glass.
That's not what Nora was saying in this case.



And if you drop a plastic ball, it bounces, no harm done. If you drop a glass ball, it shatters, so you have to kno… https://t.co/4qPPRcfMLh

— Jennifer Lynn Barnes (@Jennifer Lynn Barnes)1579749179.0

Nora was not talking about juggling five balls. She was talking about juggling FIFTY-FIVE balls. The balls don't represent 'family' or 'work.' There are separate balls for everything that goes into each of those categories. 'Deadline on Project Y' or 'crazy sock day at school.'

And her point, addressing a room full of women, was not 'prioritize kids over work.' It was 'some kid stuff is glass and some is plastic, and sometimes, to catch a glass work ball, you have to drop a plastic family one, and that is okay.'
And the reverse is also true. Sometimes, to catch a glass kid ball, something at work has to slide, and that is okay, too.
If you are juggling 55 balls, some are going to drop, so you have to focus not on broad categories, but on the glass balls."
Now that is what seriously sage advice looks like. Much of what parents hear these days can be summed up as "Make time for self-care!" which is nice, but not particularly helpful when you're in the thick of things. We have no choice but to juggle many things at once, but discerning which balls are okay to drop for now and which ones we absolutely have to keep in the air can help us cope a little better with the circus act we've found ourselves in—clowns, fire rings and all.