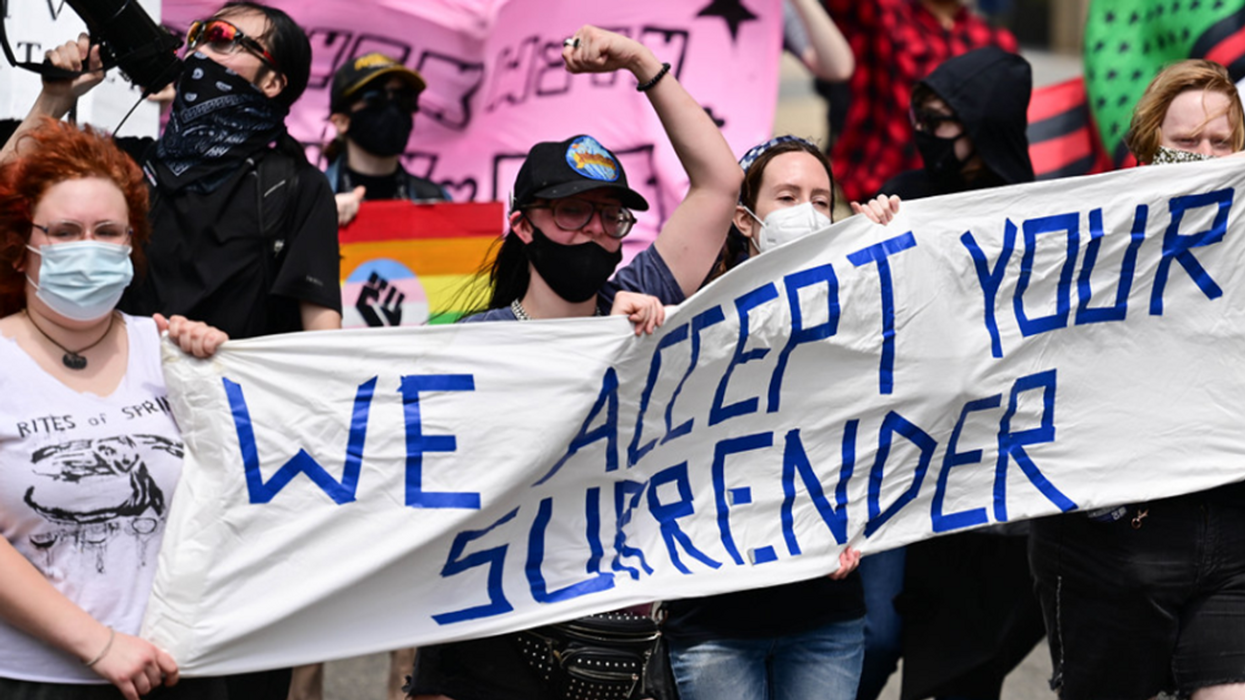 Dozens of "White Lives Matter" rallies were scheduled to take place across America on Sunday. The events were scheduled in semi-private, encrypted chats on the Telegram app between Nazis, Proud Boys, and other right-wing extremists.

The organizers said the rallies would make "the whole world tremble."
However, the good news is that hardly any white supremacists showed up. In fact, the vast majority of people who did show up were counter-protesters.
---
The events were supposed to be the first major white supremacist rallies since 2018. With a showing like this, they might end up being the last for the foreseeable future.
It's believed that in part the rallies were an incredible flop because the extremists are afraid to be seen in public. After the Capitol riot on January 6, over 275 people have been arrested for participating in the insurrection. Another 540 have been identified by the FBI.
Many others have lost their jobs, businesses, and relationships after being exposed in photos and videos taken at the event.
The events could have also been a failure because of the disastrous 2017 Unite the Right rally in Charlottesville, Virginia in which a counter-protester was killed. Many of the white supremacists at the event were also exposed on social media and faced consequences for their behavior.
The failure of people to show up is further evidence that the work being done to drive the extremists underground has been a success. Over the past few years, extremist groups have been de-platformed on social media and infiltrated by informers, and law enforcement.
So, what does it all mean? The rise of domestic terrorism is a real threat according to the FBI's own statistics. At the same time, media attention on fringe groups like the Proud Boys is often a self-perpetuating cycle of hyping up interest in such groups, which encourages others join their ranks, which results in more media attention amplifying the problem. It's probably not a coincidence that these so-called "rallies" received less attention from mainstream and corporate media in the days leading up the scheduled event and less people ended up coming out to attend. If cutting off the oxygen is the best way to put out a fire, maybe the same comparison applies to these white nationalist groups.
That said, properly calling out these groups for being ridiculously dumb, along with being hateful, is a pretty effective strategy as well. For example, in Philadelphia there was plenty of pizza, but not a Nazi in sight.
In New Mexico, hundreds of counter-protesters were joined by one white supremacist with an "All Guns Matter" sign.
A whopping three right-wing extremists showed up in Fort Worth, Texas.
The lackluster attendance prompted anti-fascist protesters to victoriously carry a sign that read: "WE ACCEPT YOUR SURRENDER."
Leaked messages from Telegram shared by Newsweek, showed how disappointed the extremists were with the turnout. "Welp, I was the only person to show up and after being here an hour and a half for nothing I'm going home," one lonely Nazi in Nashville, Tennessee wrote.

An extremist at the rally in Norfolk, Virginia wrote, "Well that was pitiful."
Another Telegram user complained that they "sat around the area" of the protest but "no one showed up" on Sunday.
The only place that had a substantial turnout was Huntington Beach, California. Huntington Beach has had troubles with white supremacists and right-wing extremists for decades.
A few of the pro-White Lives Matter protesters squabbled with counter-protesters — which came by the hundreds — leading to 12 arrests. After about 90 minutes police broke the event up deeming it an unlawful assembly.
The extremists' collective failure at organizing rallies shows just how successful tech companies, law enforcement, and anti-fascist groups have become at tamping down extremist movements. It's clear that the ability to organize counter-protests has also had a stifling effect on extremists' willingness to engage with the public.

The failure is also further evidence that extremists have a real fear of being exposed on camera for who they are and having to suffer consequences whether legal or professional.
The failure of these events to materialize shows that fighting back against extremists can be effective, it just requires vigilance.